Rarities Roundup
11th November – 15th December 2020

The highlight of the period was undoubtedly the occurrence of two potential new birds for the British List: a Ruby-crowned Kinglet on Barra, Outer Hebrides, on 12th–19th November, and a White-bellied Storm-petrel passing Cley, Norfolk, on 17th November. Other mega rarities found during the month were a Crag Martin at Kirkwall, Orkney, on 18th November and then another at Kingsdown, Kent, from 21st November until 4th December; a Double-crested Cormorant at Ballylongford, Co. Kerry, from 25th November, a Sociable Lapwing around Crows-an-Wra, Cornwall, from 27th November to 9th December, and an American Bittern at Fiskerton Fen, Lincolnshire, from 29th November to 1st December.





Ruby-crowned Kinglet, Barra, Outer Hebrides, 25th November 2020. Bruce Taylor




Crag Martin, Samphire Hoe, Kent, 1st December 2020. Steve Ashton



Double-crested Cormorant, Ballylongford, Co. Kerry, 9th December 2020. Sean Cronin

Other newly discovered rarities were a Coues's Arctic Redpoll at Portland Bill, Dorset, on 12th November; a Red-throated Pipit on Lundy, Devon, on 13th; Desert Wheatears at both Salthouse, Norfolk, on 13th–22nd and Penberth, Cornwall, on 22nd–23rd; a Lesser Scaup on Loch of Spiggie, Shetland, on 15th–24th; an American Buff-bellied Pipit at Amble, Northumberland, on 18th–19th; a Hooded Merganser on Forfar Loch, Angus, on 20th; a Pallid Harrier at Laxo then Kergord, Shetland, on 24th November and 10th December respectively; a Black-throated Thrush at Weybourne, Norfolk, on 25th November; a Pied-billed Grebe at Chelmarsh Reservoir, Shropshire, and a Rustic Bunting at Thursley Common, Surrey, both from 26th November; a Pine Bunting on Tiree, Argyll, and a Bufflehead in Co. Clare, both on 29th November; a Slate-coloured Junco at Hammersmith, London, on 1st December; a Spotted Sandpiper at Balbriggan, Co. Dublin, on 3rd–6th; a Bufflehead at Quoile Pondage, Co. Down, from 5th December; a Black Duck and a Gyr Falcon on The Mullet, Co. Mayo, on 6th; a Rustic Bunting at Kingsbarns, Fife, on 7th; a Franklin's Gull in the Derwent Valley, Yorkshire, on 12th–13th December; plus two Pallid Swifts (in Lancashire and Somerset), three each of both Long-billed Dowitcher and Ferruginous Duck, four of King Eider and Richardson's Cackling Goose, and at least five Eastern Yellow Wagtails.



Pied-billed Grebe, Chelmarsh Reservoir, Shropshire, 29th November 2020. Jim Almond



Rustic Bunting, Thursley Common, Surrey, 11th December 2020. John Wall

Rarities lingering from previous months included the Greater Yellowlegs in Suffolk until 19th November, White-winged Scoter still in Lothian on 2nd December, Forster's Tern in Co. Galway again on 6th, Pacific Golden Plover in Moray & Nairn until 7th, Black Duck in Highland until 9th, Black Scoter in Northumberland until 10th, Kentish Plover in Somerset until 12th December, Hudsonian Godwit in Fife and Belted Kingfisher in Co. Cork present throughout, Pacific Divers in Cornwall and Co. Cork, Snowy Owl in Co. Cork and the Outer Hebrides, and Bonaparte's Gulls in Pembrokeshire and Northumberland.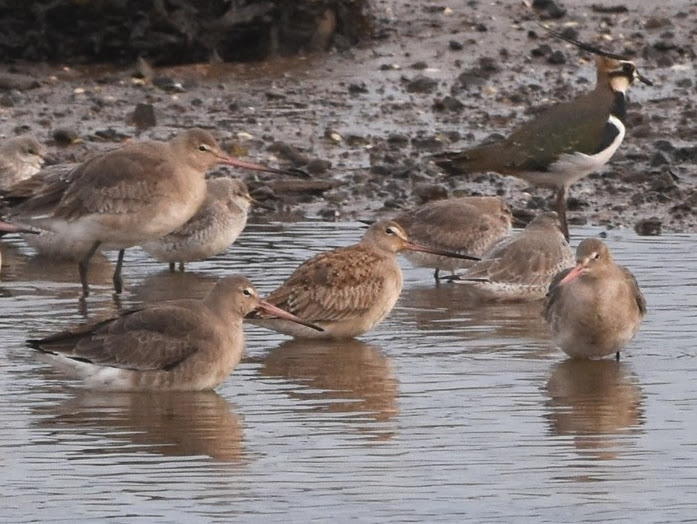 Hudsonian Godwit, Eden Estuary, Fife, 13th December 2020. Mark Wilkinson

The Rarities Roundup is brought to you by Rare Bird Alert. RBA is the longest running instant birdnews service in the UK, providing birders with up-to-the-minute updates on the latest rare, scarce and uncommon migrants turning up all over Britain and Ireland. With services available on their unrivalled pager packages, to their market leading birdnews smartphone and tablet app, to their website carrying birdnews, galleries, articles and much more, they have something to suit all birders. Find out more at www.rarebirdalert.co.uk

British Birds Charitable Trust 2020 grants

In 2020, as in previous years, the British Birds Charitable Trust has been able to support a range of projects described below. These were selected on the basis of their contributions to new ornithological knowledge, education and conservation with particular emphasis on expanding the interest in birds across as many and as diverse a population of people as possible. Apologies go to those whose projects missed the cut in 2020 but BBCT is now open for applications for 2021.

1. Save our Curlews – Shropshire Ornithological Society
The Shropshire Curlew population was estimated at 120 pairs in 2019, almost 30% of the total in southern England. The population is monitored by local community groups who have found that breeding productivity is very low. The aim of the project is to investigate why nests are failing, to protect them where possible and to fit radio tags to chicks to investigate how they use the landscape and what happens to them post-fledging.


2. Curlew Fieldworkers' Toolkit – Curlew Action
This is the second project aimed at protecting our shrinking population of Curlews. Curlew Action, together with the Wildlife and Wetlands Trust in Slimbridge, is putting together a toolkit to help volunteer fieldworkers monitor and protect breeding Curlews. In addition to providing hardware to protect and monitor nests, their work will also provide training and education to fieldworkers, farmers, land-owners and other interested parties via a series of workshops, videos and online information.

3. Woodpecker Workshop – Hungarian Woodpecker Working Group
Many of Hungary's forests and woodland birds are under pressure. The Woodpecker Working Group, a subgroup of the Hungarian Ornithological & Nature Conservation Society (MME) will, with the BCT funding, organise a workshop designed to familiarise participants with the prevailing problems and equip them with the necessary skills to participate in woodland surveys. The workshop will provide basic information on woodpecker ecology and methods for monitoring woodpeckers and their habitats, and is aimed particularly at the younger generation.

4. West Oxfordshire Farmland Bird Project – WOFBP

The West Oxfordshire Farmland Bird Project (WOFBP) team has been working to reverse the steep declines in West Oxfordshire's farmland birds, concentrating particularly on Tree Sparrows. This has involved working closely with farmers to improve habitat, install nest boxes and provide supplementary winter feeding. The effectiveness of these efforts will be monitored through surveys and ringing studies. The BBCT grant will enable the project to expand through the inclusion of additional farms and continuation of supplementary feeding.

5. Replacement of Observatory Cabin at South Walney – Walney Bird Observatory

The BBCT grant will be used to replace the ringing and recording cabin on the south end of Walney Island. The existing cabin was erected in 2002 and is now nearing the end of its useful lifespan. The new cabin will provide a weatherproof structure for ringing activities including recording and storage of data together with equipment, books and reports, as well as providing a location where members/volunteers can have a hot drink!

6. Forty Years of Offshore Recording – North Sea Bird Club

The North Sea Bird Club had been in existence for 40 years when, in late 2019, it was decided, sadly, that with a falling number of offshore observers, it should be dissolved. The 40 year anniversary report will be the club's final publication and a commemorative record of its achievements including records of over 250 bird species. The BBCT grant will contribute towards preparation and publication of the report.

7. The BTO Youth Representative Scheme – BTO

We are all aware of the distinct bias towards the older generation in the age profile of birders. The Youth Representative Scheme is the first project to come out of the BTO's Youth Advisory Panel and seeks to encourage a wider and more diverse range of young people to connect with nature. The project aims to normalise and localise birdwatching activities among young people by establishing regional networks around youth representatives. The BBCT grant will allow BTO staff to provide training, support and expertise together with links to local networks of volunteers including bird clubs and ringing groups.

8 Protecting South Walney Nature Reserve Gull Colony – Cumbria Wildlife Trust
The colony of Herring, Lesser Black-backed and Greater Black-backed gulls at South Walney NR has suffered a catastrophic decline with the number of nesting pairs falling from 12,000 in 2010 to under 1000 in 2020. No chicks have fledged successfully since 2016. The main cause of the decline is thought to be predation by foxes and/or badgers. The aim of the project is to install a permanent, predator-proof electric fence around the colony prior to the start of the 2021 nesting season.

9. The Impact on Birds of Teak Invasion into Native Forests – A.P. Leventis Ornithological Research Institute
The teak trade is a booming business in Africa with Ghana and Nigeria two of the biggest exporting countries. As the trade grows more plantations are being established and more invasion of teak into native forests is occurring. The impact of the invasion on birds, both residents and migrants, is unknown. The aim of this project is to investigate the differences in bird species diversity and densities in mono teak plantations with those in native forests and in forests with different degrees of teak invasion.

10. Bird Hide at Hengistbury Head – Christchurch Harbour Ornithological Group.

The project will convert an existing but run-down hut on Hengistbury Head in Dorset into a bird hide for public use. This will be the first and only hide on the Head and is aimed at providing a new source of bird-focussed engagement, education and interpretation to the area's one million annual visitors. In addition to promoting wildlife viewing and recording by the public, it will support the education of children from disadvantaged backgrounds and enable disabled visitors to view wildlife in the sanctuary.

Eurasian Curlew. Damian Money