In the rose garden with Ludwig
• The Novelties of 2020
• Rose Care for October
• ROSE FESTIVAL
• Roses of the Month
• Garden Day
"Just living is not enough… one must have sunshine, freedom, and a little flower."

Hans Christian AndersenIn the Rose Garden with Ludwig
Rose Month has started! Our own roses are just bursting into bloom. Just judging from the many 'Just Joey' blooms being posted on social media, in private gardens as well.
Walking or riding my new bush cart through the roses every day, I am astounded by the quality of the leaves, stem length and strength, as well as the flower size.
I am tempted to say the best ever, but that is hard to claim after almost 50 years of preparing and writing for our October show.
The difference, compared to previous years, is that the roses were probably able to have a proper dormancy / resting period after the frosty nights at the end of May put a full stop to growth.
I can see this quite clearly from the few roses I winter pruned in mid-June for visitors to see how it is done. These are flowering early with much shorter stems.
Another reason for the exceptional performance may be that our roses were nicely foliated when they became dormant. That means lots of food was converted and stored in the woody parts.
As always, it is exciting to see the daily development from tight green bud, to showing colour and then opening up into full blooms.
Luckily it does not happen to all varieties at the same time. One can differentiate between early, moderate and late flowerers. The difference could be two weeks. It means that when the blooms of the early flowerers are maturing the others are still fresh and this extends the excitement. By the second flush the varieties have caught up and there isn't much of a difference.
'Oyster Pearl' on the left is an early flowerer, the variety on the right
will only bloom two weeks later.
I am often asked what my favourite rose is, and my answer is simple. "It changes from week to week." Last week it was 'Perfumery' and this week it is 'Garden Pavilion'. These images say it all.
A bed of 'Perfumery'. One bloom more perfect than the next!
'Garden Pavilion' almost luminous.I have always been aware of the importance of bee activity amongst the roses. With the recent hype I am taking a closer look, so that we can actually determine which blooms are preferred by our winged friends.
Scent seems to be quite important, why else would they try so strenuously to get between the petals of full blooms to reach the nectar and pollen?
On open blooms one finds several bees per flower. With so many of these varieties flowering almost non-stop for nine months, it is good to have them strategically spaced in a garden.
A bee symbol in our catalogue indicates which open roses we have found attract bees best.
A bee diving right deep into the the tightly packed petals
of 'Otto de Jager' in search of golden pollen dust.October is a good time to visit our rose establishments to see how we make a feature of the many climbers and ramblers, shrub roses and the more modern Spires, GrandiRosas and Panarosas.
These roses are so very versatile, and seeing what can be done by simply training them a little can really inspire you to create a remarkable feature in your own garden.
'Coral Midinette'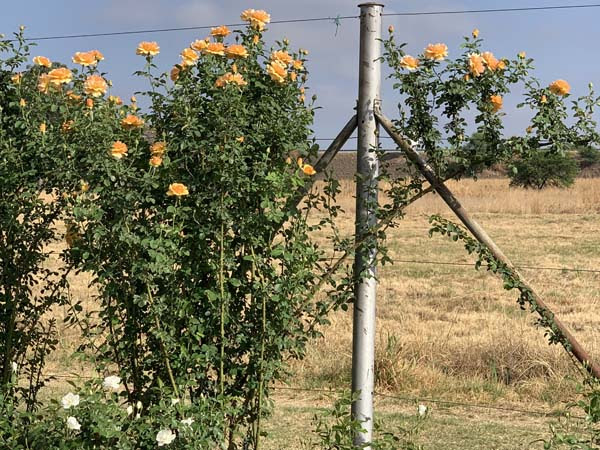 'Golden Spire'
'Isidingo'Here are some impressions of what you will be able to see when visiting us. The flower power in October is simply unbeatable.
'Tempi Moderni'
'Relais & Chateaux'
'Red Rover' is superb in a pot or as a border.The Novelties of 2020
October is of course the time of year when we also introduce new varieties.
Our catalogue has not come back from the printers yet. As mentioned in last month's newsletter we will not be able to post it to you this year. However we hope to entice you to visit us to collect a copy as soon as it is out. This year's edition is going to be very special!

However the entire collection of our 2020 novelties will be on display at the farm this weekend for our festival, so you will be able to get to know them in the flesh. Plants will be available for you to take home. Here are images of a few of the new releases.
'Fruity GrandiRosa'

'Fruity GrandiRosa' grown as a tall hedge at the back of a rose bed.
'Antique Affair'

'Blondy'
'Pauli Marie'
'Manuela Crabbia'
'Pink Paradise;
'Sundowner' also pictured in the Talking Roses banner above.


We are thrilled to announce that we are extending the Festival from Friday, the 2nd of October till Sunday, the 11th of October.
The weather has been favourable so we will keep the displays in our 1000m2 Rose Shed fresh for visitors to enjoy over the 10 days.
Vases on display will all be for sale AND you will get to take the roses in the vase home for free with each purchase.
We pride ourselves on stocking the most beautiful and special vases.
A Wilderer Rose Gin bar and Hazeldean Vienna Lager on tap will ensure that you don't need to go thirsty whilst meandering through the displays or gardens.
Hop on free tractor train rides through the rose fields.
Classic boerewors rolls will be available or you can sit down at our Rose Kitchen restaurant to enjoy breakfast, a burger and chips, German sausages with potato salad, our famous quiche, a slice of cake, or not to forget our delicious milkshakes.
Lot's of fun is to be had by the young ones in our children's play area.
We look forward to welcoming you to the colour spectacle of hundreds of thousands of roses in full bloom!
Entrance to all the facilities, gardens and displays is completely FREE of any charge.
Step by Step Rose Care for October
Spring is the time to enjoy the roses and to talk and listen to them. The "listening" will make you aware of the need to maybe apply more water or fertiliser, carry out disbudding, tip pinching of the water or basal shoots and to start dead heading by cutting off faded blooms.
Cutting off the spent blooms once a week, or more frequently, helps to encourage continuous flowering over the season. Usually one cuts off the flower with two or three leaves although with very long-stemmed varieties such stems may be cut halfway down to keep the height of the bush in moderation.
When cutting blooms for the home one should never cut almost all long-stemmed blooms within a few days. This upsets the sap flow and with it the feeding of the mycorrhizae in the soil and the sprouting of new stems.
However, if finger pruning was carried out in September, there would be new growth and leaves on the bush ensuring a balanced sap flow and normal sprouting for the next flush.
Foxgloves are not the best companion plants to roses. They should rather be dug up.

'Just Joey' an early bloomer, was pinched 3 weeks ago. Not the lush, red new sprouts.

The bud union of this 'Memoire' has been exposed due to soil erosion.
Raising the soil level around the bush would do wonders.
Listening to rose bushes that were scorched by a nearby veld fire was traumatic,
but I heard: "Do not cut us down yet!" Two weeks later they are sprouting from the base.Fertilising with VIGOROSA by mid-October will boost the new growth even more.
Spraying at this stage should not be neglected. Our recommended cocktail sprayed fortnightly takes care of most fungi and insect invasion.
Finally, do not neglect the correct watering. Some of the regions have received good rains recently with water getting to the roots of the roses. As stated above if the rose tells you it is not getting enough water, listen to it and change the watering / irrigation pattern as recommended in this newsletter. Also consider. spiking the soil, building up edges, terracing slopes, and watering less often but more deeply.
Rose plants available in the plastic bags are often at different stages of maturity. Woody plants have a dense root ball and when removing the bag for planting it is important to rip open some of the roots.
It easily happens that such an intact root ball dries out in a wet bed. It means that the leaves pull up the water in the root ball and it dries out and it causes a negative-negative situation which pushes the water away instead of absorbing it.
Smaller, young plants need to be handled more carefully. Prepare the planting hole, settle the plant in it at the right level and only then cut and remove the plant bag without disturbing the roots too much. Plant the rose in the soil at the same depth as it was in the planting bag. Water daily for 10 days till they have settled. Once settled these young ones often overtake the more established woody plants and flourish.


Roses of the Month

'Brass Trumpet, 'Denver's Dream' and 'Union Schools'

These three roses are available at our special rose of the month price of R 85 each.

'Brass Trumpet' a Hybrid Tea that doesn't need to blow its own trumpet.

'Denver's Dream' is a miniature with a special colouring.

A showy Floribunda – 'Union Schools 100'.
In celebration of Garden Day on Sunday, the 11th, we offer a -10% discount on all rose plants from all our nurseries.
Most of the year we plant, water, weed and mulch – work. Garden Day, however, is the time to reap the rewards of your labour. No matter how big or small your garden is – whether you have rolling lawns or simple window box displays – Garden Day is all about downing tools and celebrating the fruits of your labour.
Wearing a crown of flowers and sharing it on our facebook page will be great fun and the person with the most inspired crown will win a prize of 10 rose plants collected from a Ludwig's branch closest to you!Thank you for reading our newsletter and for planting roses.
Enjoy the Beauty!
Rose greetings,
I8Ludwig & Halmar